All Gender Restrooms by Kerwin Lee, AIA

The current Code Change Cycle, the 2022-Intervening-Cycle, has some interesting items from bringing more of Chapter 11A elements into Chapter 11B. The thought of the Division of the State Architect (DSA) is to make things easier for the user. This missguided thought of having Chapter 11A "Multi-family housing" requirements, which are regulated by the Fair Housing Act (FHA), apply to "Public Housing" under the ADA does not align with the Federal regulations. This approach is flawed and could be misleading to the user for compliance with the Federal Standards. Although this is important, that is not what this article is about.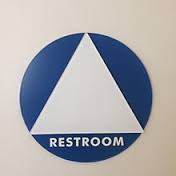 Back in 2017, Assembly Bill 1732, added what appeared to be a simple requirement for restroom signage. This law requires all "single user toilet facilities" to have special signage. According to DSA's Bulletin at the time, they recommended that the symbol on the door be a triangle within a circle. No pictogram is required and no other signage (text) is required. If you or the owner chooses to have a text sign, it should say one of the following: "ALL-GENDER RESTROOM", "RESTROOM", or "UNISEX RESTROOM". The text with Braille does need to comply with the code for all accessible signs for rooms. It is best to stay away from any other text or having any pictogram associated with the symbol or text sign, because there is no National Standard..
The issue has not been completely resolved in the code and is being made more complex related to this issue. There are currently three classifications for single user toilet facilities with a fourth being proposed:
Unisex – Single user or family
Unisex – Patient, toilet rooms in medical facilities
Unisex – Patient, bathing rooms in medical facilities
And a proposed: Multi-user all Gender toilet rooms.
This proposed Multi-user All Gender toilet facility is trying to address a significant aspect for this type of toilet room design to ensure privacy at the toilet and urinal fixture by locating them within privacy compartments. Currently there are no requirements associated with accessible urinal compartments, anywhere. So the State is developing new standards. Here is a proposed Figure for an accessible urinal compartment.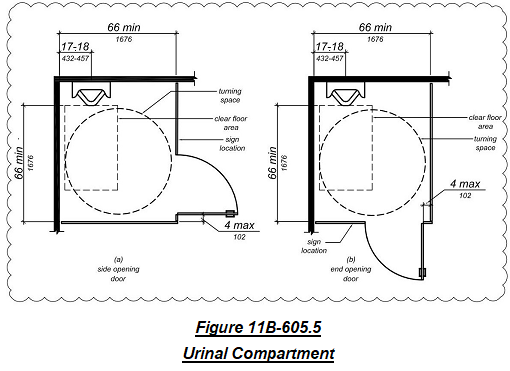 The proposed code change or addition does not require a compartment for a urinal, but if one is installed, compliance with the section is required.  It is unclear when a compartment for a urinal would be used and if you can have a non-accessible one or can it be a ganged grouping?. The proposed change does address the minimum numbers of accessible compartments (toilet and urinals) when they are provided. Appropriate signage needs to be provided, but there is no standard signage to identify a urinal, accessible or inaccessible.
One of the ongoing problems you will be facing is compliance with the Plumbing Code in regards to "Fixture Counts". If all single user facilities are now all gender, how is it counted in tabulating the number of required fixtures for a facility or building for compliance? The biggest question is compliance with the separate sex facilities?
If and when this is accepted as code requirements, the earliest would be January of 2024, the problem is going to be what does it apply to. The code change is being presented under the authority of the Building Standards Commission (BSC) and DSA. Their authority covers only State Buildings and Schools. If the code change makes its way into the Uniform Plumbing Code, which is the Model code for the California Plumbing Code (CPC), then it would be applicable to all uses.
If you are interested in seeing what is going on, go to this link for the current Code Change Cycle proposals for Disabled Access: https://www.dgs.ca.gov/BSC/Rulemaking/2022-Intervening-Cycle/2022-Public-Comments/ACCESS-45 Click on the "Expressed Terms", and look at Item 15 is the Urinal issue.
The confusion continues on this subject. The State Building Standards or Codes do need to be adjusted to address all of these social changes, but they need to be understood and clear to the user. In the meantime don't do anything yet on this element until it is adopted into the code. Once it is adopted we'll look at the actual code language.