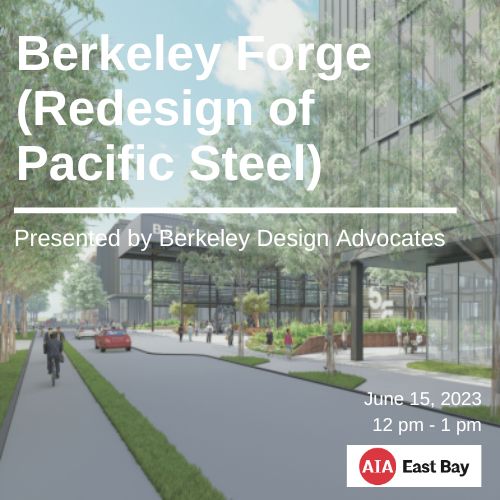 Berkeley Forge (Redesign of Pacific Steel)
Please mark your calendars for a presentation on the redesign and re-envisioning of the old Pacific Steel site (off Gilman Street) into the Berkeley Forge development.  Details:
The Berkeley Forge development seeks to transform this Northwest Berkeley heavy industrial neighborhood into a unique life-science campus, embracing Berkeley's manufacturing history and attracting the next generation of talent. The 10-acre development will provide approximately 890,000 sf of Class-A life-science campus in eight buildings and provide approximately 1,900 parking stalls in three structures. The lifescience buildings range in size and height, allowing for diverse urban design and tenant opportunities, with floor plates from 25,000 sf to 30,000 sf and ranging from 3 to 6 levels.
In order to balance site access the design lends priority to pedestrians and cyclists along 2nd street, while providing services and parking entries along the perimeter of the campus. At the heart of the campus, the existing Berkeley Forge building has been repurposed for a one of-a-kind amenity space that activates the core of this site and sets a tone for more intimate placemaking amongst the new buildings.
The project team is considering resiliency strategies, including addressing sea level rise and incorporating sustainable design methods to reduce carbon, optimize energy and provide an urban forest public open space. In total, this proposal outlines the development of a distinctive Innovation Hub, a regional landmark that brings together regional life-sciences talent and research into a signature campus.