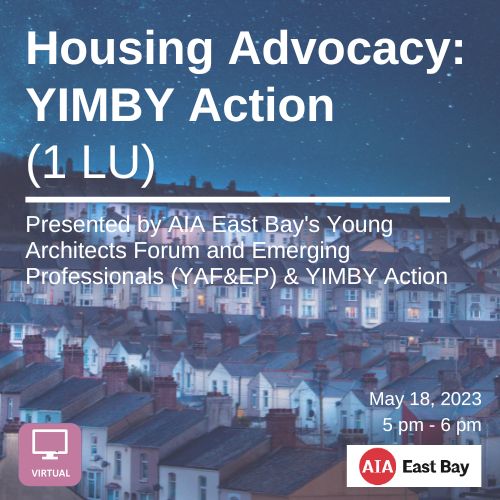 Housing Advocacy: YIMBY Action (1 LU)
Imagine living in a community with abundant housing! Leora Tanjuatco Ross is one of the people working to make that happen. Her architecture education became the foundation for a career of advocacy and political action. Learn about the pro-housing movement in a dynamic conversation with YIMBY Action's National Organizing Director.
Yes In My Backyard:
Yes to People
Yes to Housing
Yes to More Neighbors
Yes to Short Commutes
Yes to Walkable Communities
Leora Tanjuatco Ross is formally educated in architecture, but has been organizing for housing since 2014, when she realized that architecture is political. Before YIMBY Action, she worked at the Housing Leadership Council of San Mateo, where she focused on organizing people in support of affordable housing. Leora has also served as the president of the Peninsula Democratic Coalition, the oldest and largest Democratic club in Silicon Valley. When she's near surface-level parking lots, she'll point out that they could be homes, to anyone within hearing distance.
Jaime is a licensed architect and Principal at DAHLIN. Born and raised in the East Bay, she has always been passionate about the charm of the Bay Area. With an expertise in residential design, she is equally adept at leading teams in serving the goals and needs of established, experienced homebuilders as she is at coaching emerging builders for success.
A graduate of Cal Poly San Luis Obispo, she initially began her career designing K-12 educational architecture. As an active member of AIA, she became co-chair of AIA East Bay's Young Architects/Emerging Professionals Committee in 2021, was elected to the AIA East Bay Board of Directors in 2022, and is currently the Board Secretary for 2023.
Next Event
Date

Sep 27 2023

Time

6:00 pm - 8:00 pm