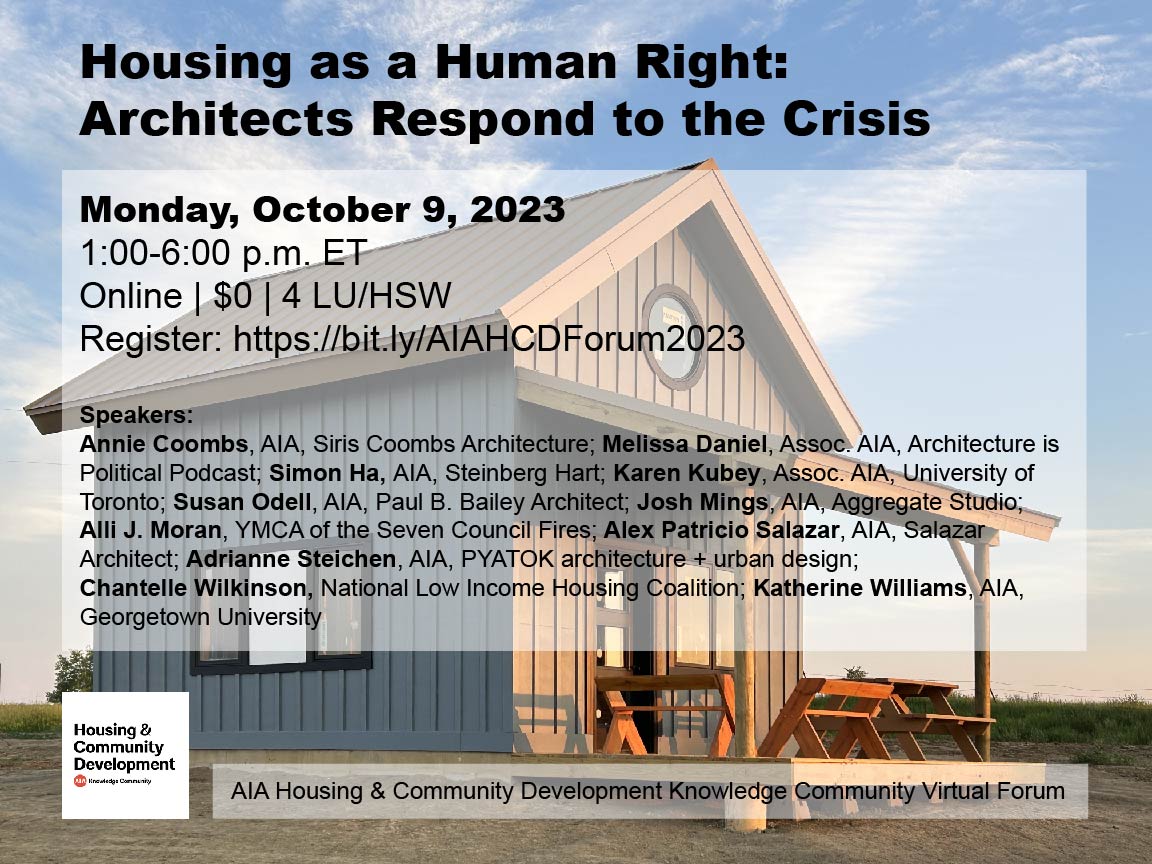 Housing as a Human Right: Architects Respond to the Crisis (4 LU|HSW)
The AIA Housing and Community Development Knowledge Community (HCD) Right-to-Housing Working Group has been working to address the global housing crisis and promote equitable policies and design excellence in affordable housing.
We invite you to join us for this one-day forum, which will provide you with valuable insights, tools, and skills to advocate for housing justice and positive change in your community.
What to Expect:
4 Learning Units (LUs)/Health Safety and Welfare credits (HSWs)
3 engaging sessions featuring multidisciplinary experts:

Toward Housing Justice: Expanded Architectural Practice and National Policy Alliances
Learn about the National Low Income Housing Coalition's Opportunity Starts at Home campaign and gain insights into how architects can act locally and effectively communicate with legislators to advance equitable and healthy affordable housing policies.
AIA Housing and Community Development Engagement in UN Habitat
Explore the role of architects in international efforts to address housing challenges.
Building on the Reservation: Housing as a Form of Sovereignty
Gain insights into housing as a form of sovereignty for people living on the Cheyenne River Reservation in South Dakota.
Speakers:
Annie Coombs, AIA, Siris Coombs Architecture; Melissa Daniel, Assoc. AIA, Architecture is Political Podcast; Simon Ha, AIA, Steinberg Hart; Karen Kubey, Assoc. AIA, University of Toronto; Susan Odell, AIA, Paul B. Bailey Architect; Josh Mings, AIA, Aggregate Studio; Alli J. Moran, YMCA of the Seven Council Fires; Alex Patricio Salazar, AIA, Salazar Architect; Adrianne Steichen, AIA, PYATOK architecture + urban design; Chantelle Wilkinson, National Low Income Housing Coalition; Katherine Williams, AIA, Georgetown University
By participating in this forum, you will be joining a community of architects and professionals dedicated to making housing a fundamental human right for all. Together, we can drive positive change and create a more equitable future.