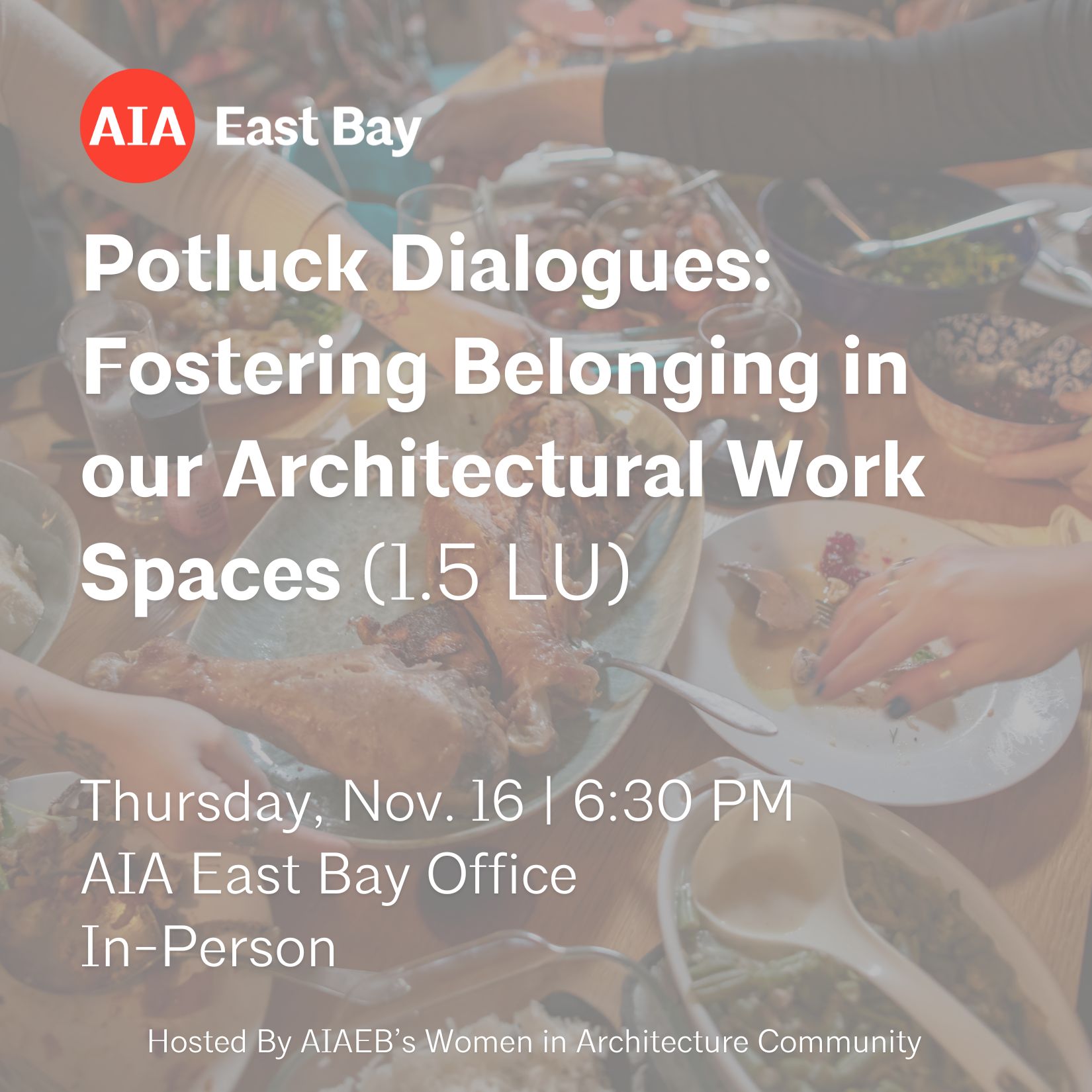 Potluck Dialogues: Fostering Belonging in our Architectural Work Spaces
One of the first places that people can experience a sense of not belonging is in group discussions. Pulling from her work in educational leadership, Denise will lead the group to learn and use protocols from Critical Friends Groups, designed for use in schools to "create an environment of trust, …to give and receive feedback most effectively, and to use our protocols and activities to create a culture of excellence". (paraphrased). We'll explore how these protocols can be adapted to create an environment of trust and belonging within the architecture profession, where the feedback cycle has not historically been healthy. We'll also dive into the ways that gender identity, sexual orientation, race, religion, national origin, and other factors impact the sense of belonging within our work lives.
Come for respectful and engaging dialogue to gain knowledge, learn practical exercises & tools, and take home resources for bringing people into connection, unity, and community. We ask that all come with open hearts and minds.
This event is a potluck! Bring a dish to share and be sure to note any allergens. If you are not able to bring a dish, please contribute $25 toward additional food and beverages for the event.
Denise Svenson is an NCARB-certified architect, licensed in California, Georgia, and Florida, and enjoys working on small residential projects that center sustainability, net zero carbon design, and integration of landscape design. She currently works with her spouse, Staffan, in their two-person firm, Svendesign Studio. She is an avid gardener, and enjoys sharing environmental education with children through garden videos (link).

During an RPI travel fellowship, an independent investigation of Scandinavian architecture, she joined the Naturhus straw-bale student construction team in Kolding, Denmark led by Pritzker-Prize winning architect Sverre Fehn. After graduating from Rensselaer Polytechnic Institute, she began her architecture career with Stang & Newdow Architects and Smith Dalia Architects in Atlanta, Georgia.

Denise returns to full-time work in architecture after a 20-year career in education, culminating in her work as an elementary school principal, where she led efforts to improve diversity, equity, belonging, and inclusion for students, faculty, and families. Denise found that having discussion protocols designed to promote equity and inclusion were essential, and became a certified facilitator with Critical Friends Groups, part of the National School Reform Faculty. She hopes to continue her dedication to anti-bias and anti-racism into her architectural practice and community life.