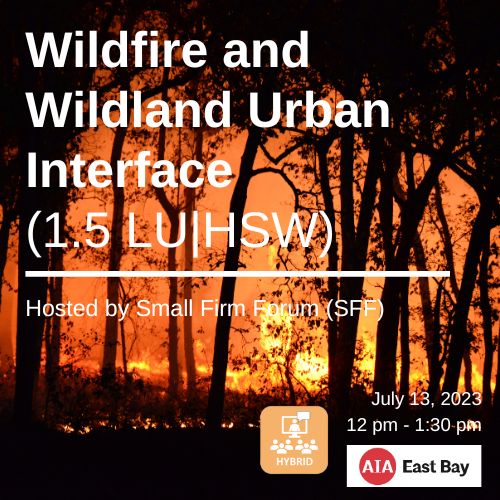 Wildfire and Wildland Urban Interface (1.5 LU|HSW)
Considering the increasing destruction done by wildfires in past years, along with the recent heavy rains and the buildup of fuel contributing to fire spread, it is more important than ever to be prepared for fires in the Wildland Urban Interface. Thirty percent of the population of California lives within the W.U.I.
This meeting will focus on structural hardening (that is ways to reduce the possibility of a structure catching on fire). An overview of current codes and regulations will be presented by an expert panel.
Sheryl Drinkwater is a licensed architect in Berkeley with over 25 years of experience working in the design and building industry in the Bay Area. Projects include new builds, residential additions and remodels, and commercial tenant improvements. She earned a Bachelor of Architecture from CCA[C] and a Bachelor of Arts degree from San Francisco State University; and is a licensed architect in the state of California and a LEED Accredited Design Professional. She is on the Board of the Alameda and Contra Costa counties homeowner wildfire protection education group – Diablo Fire Safe Council – where she assists homeowners in preparing their properties for wildfire through education and inspections. Sheryl has presented to groups in Berkeley, Oakland, and Kensington to educate residents on actions they can take to protect their homes from wildfire. Her expertise in home hardening stems from her experience as a Cal OES certified safety assessor, where she deployed to Sonoma County in 2017 and to Paradise, California in 2018.
Jennifer de Graaf is a California licensed Landscape Architect and educator with over 20 years professional experience. Her qualifications include being a LEED Accredited Professional, ReScape CA Qualified Professional and Rater, and Qualified Water Efficient Landscaper. She grew up in Southern California but earned her BLA in Landscape Architecture from Oklahoma State University. Jennifer is self-employed; she enjoys a wide mix of projects from landscape architectural design work to consulting and public speaking.
Cheryl Miller is a registered Landscape Architect in private practice in Oakland California. Since the Oakland Berkeley Hills Tunnel Fire in 1991, she has specialized in wildfire related issues. She works on wildfire prevention with the Hills Emergency Forum, the Diablo Fire Safe Council in Alameda and Contra Costa Counties and with fire departments throughout California. Her areas of expertise include grant writing, public education, collaborative planning and project management to reduce hazardous conditions. She is also coauthor of the book Managing Fire in the Urban Wildland Interface available from Solano Press. Prior to her specialization in wildfire, she was a partner in the Oakland design firm, Amphion Environmental, where she had over 25 years of experience with primary responsibility in all phases of projects from initial planning and programming stages, preliminary design, to construction documents and site observations.
Cheryl Buckwalter is a residential landscape consultant, educator, and designer. Her passion is to collaborate on regional and statewide educational programs for creating and managing regenerative and resilient landscapes. Living in a high Fire Hazard Severity Zone in the Sierra Foothills, Cheryl creates defensible spaces that support and protect biological diversity. Qualifications: ReScape Resilient Regenerative Firescaping Qualification, Irrigation Association Certified Landscape Irrigation Auditor, Qualified Water Efficient Landscaper, and an A.S. degree in Environmental Horticulture and Residential Design. Cheryl is the Advocacy Chair for the Association of Professional Landscape Designers California Chapter.