Intermediate Designer/Job Captain/Project Manager
Full Time
Part Time
Work visa required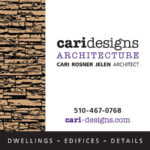 Website Cari Designs Architecture
Small, client-focused, primarily Residential studio seeks Intermediate Designer/Job Captain/Project Manager. Please apply if you:
Want to be valued for your design and technical contributions;
Can work with minimal support to develop schematic designs into permit- and construction-ready documents;
Have a professional degree in architecture (or related studies) + minimum 5 years of experience in residential type V construction design;
Possess an understanding of local codes and have experience with Zoning and Building Code research;
Are proficient or can become so readily with AutoCad and Sketchup;
Digitally comfortable and able to do independent research;
Craft emails with care and aren't afraid to pick up the phone to call members of the project team, the city, manufacturers, contractors, etc.;
Have the organizational skills and desire to work on multiple projects at once;
Are able to document a variety of as-built conditions with sketches and photographs;
Can meet reasonable scheduling requirements and deadlines;
We:
Respect your time, are friendly and down-to-earth, striving for a productive work-life balance;
Support the path to licensure, scuba certification, and parenthood (among other things);
Can offer full time – ¾ time employment with inherent flexibility;
Work primarily out of our vaccinated South Berkeley office and remotely occasionally.
Pay commensurate with experience. Please send resume, cover letter, and work samples to crj@cari-designs.com with 'AIA Job Board 2021' in the subject line.