Flexible Project Architect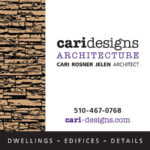 Website Cari Designs Architecture
Small, client-focused practice seeks Designer/Project Manager. Please apply if you:
can work independently to develop schematic designs into permit- and construction-ready documents;
have a degree in architecture (or related studies) + minimum 5 years of experience in residential type V construction design;
possess an understanding of local codes and have experience with Zoning and Building Code research;
are comfortable utilizing digital programs common to architecture firms doing remote work;
craft emails with care and aren't afraid to pick up the phone to call members of the project team, the city, manufacturers, contractors, etc.;
have the organizational skills and desire to work on multiple projects at once;
are prepared to document a variety of as-built conditions with sketches and photographs;
can meet reasonable scheduling requirements and deadlines;
are legal to work in the US.
We:
are friendly and down-to-earth, striving for a productive work-life balance;
support the path to licensure, scuba certification, and parenthood (among other things);
can offer part time – full time employment with inherent flexibility;
utilize AutoCAD mostly, Revit occasionally, Photoshop, Adobe Pro, Zoom, and Sketchup;
work out of our South Berkeley office (someday…) and remotely (during shelter-in-place);
Pay commensurate with experience.
Please send resume, cover letter, and work samples with the Subject: 2021 Job Opportunity