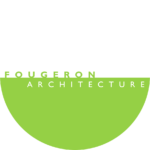 Website fougeronarch Fougeron Architecture
Fougeron Architecture is an international award-winning firm, led by principal Anne Fougeron, known for a provocative approach to innovative modernism and commitment to environmentally-conscious architecture.
We have an immediate opening for a Project Architect. As Project Architect, you will be in charge of overseeing the design, development, coordination and construction of varied projects, from single-family housing to large-scale remodels to public buildings. Most notably a very large-scale housing project in the South Bay for one of the tech giants.
We are a small practice with plenty of growth opportunity for any employee. We value independent thought and pro-active approaches.
We are looking for someone good-humored, driven and committed to design excellence.
Your qualifications must include:
5-7 years professional experience.
Experience with single-family and multi-family residential typology preferred.
Demonstrated ability to manage a team.
Commitment to design excellence; strong communication skills – verbal and visual.
Proficiency in Revit, AutoCAD, and SketchUp is a must.
Accredited architectural degree (BArch or MArch).
This is a full-time position with benefits (including but not limited to health care, transportation reimbursement and coffee-on-demand).
Compensation is competitive and based on ability and experience. Please send resume and portfolio samples to: todd@fougeron.com.