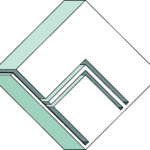 Website Harriman Kinyon Architects, Inc.
Project Manager
Harriman Kinyon Architects is seeking a Project Manager for our firm with 3+ years' experience as a project manager in healthcare, new building developments and multi-family residential. The position requires a fully competent professional who works independently to lead and direct the work of the project team. This position requires the management, development and completion of multiple projects in a manner consistent with office standards. This person will be responsible for overall project management including client relationship, scheduling, budgeting and construction administration and is accountable for the quality of work performed, client service and profitability.
We are looking for a team player who is excited to work in an energetic firm.
Summary of Responsibilities:
• Work directly with the client to establish the project requirements and project approach
• Work and manage with a variety of project types throughout all phases of design and construction
• Coordinate directly with all regulatory agencies to establish jurisdiction requirements, planning and code related requirements
• Work closely with the Project Architect throughout the project
• Work closely with Project Architect to understand contractual obligations with the client and manage client/firm relationship and all required contractor arrangements
• Work closely with staff and Project Architect in establishing the project schedule, technical requirements, and budgets
• Reviews Change Orders, Application for Payment documents and generates field directives
• Performs site visits, responses to RFIs, and performs punch walk duties
• Performs project presentations to clients and regulatory agencies
Successful candidates will have:
• Architectural licensure highly desirable but not required
• Minimum 3+ years' experience as a project manager
• Prior experience with building healthcare centers is preferred
• Knowledge of construction materials, standards and codes
• Revit experience required
• AutoCAD proficient
• Ability to Communicate clearly and concisely; both verbally and in writing
• Capability to effectively work within a collaborative team environment
• Ability to complete tasks with accuracy and with strong attention to detail
• Ability to consistently meet deadlines, completing tasks as previously defined
• Ability to work with integrity, trust and commitment, setting an example for others
If you meet the above criteria, please send a cover letter and resume to natalie@hka-inc.com. Only those candidates who best meet our qualifications will be contacted for interviews.
Compensation is based upon qualification and relevant experience.
No relocation assistance.
Must be legally authorized to work in the United States.
Please, no phone calls regarding this position.