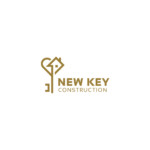 Website New Key Construction
Job Description
CREATING A HOME FOR PASSIONATE & TALENTED CRAFTSPEOPLE
At New Key Construction we endeavor to create a home for passionate and talented craftspeople.
We believe that you should have passion for what you do and what you surround yourself with. We are looking for team players who are forever students, who always strive to be their best, don't settle for average, and take pride in their craft. We are the kind of people who reach for excellence and make a conscious effort to bring our passion into everything we do.
New Key Construction is a Residential Contractor serving Contra Costa, Alameda, and Solano Counties. We specialize in medium to large size remodels, additions, and construction of ADUs.
We are adding to a dynamic team of experienced construction professionals who value communication, collaboration, and delivering high quality results to our clients. Nothing thrills us more than that "New Key" feeling our clients experience when we complete their remodel, addition, or custom ADU.
The Architectural drafter will be part of the design team to help create beautiful homes for our high-end residential projects. Our projects range from medium to large remodels, additions, and ADUs. We are looking for someone who can support an architectural project from concept to completion.
WE'VE GOT PERKS!
*Excellent Compensation ranging between $85,000 to $120,000 DOE
*We offer Medical/Dental/Vision
*401K/FSA plan
WHAT WE'RE LOOKING FOR
BA/BS or other professional degree in Architecture
3+ years' experience in residential design (remodel and additions) required
Proficiency with Chief Architect and other rendering programs are required
Job Description
Drafting and creating permit set drawings for projects and submitting permit drawings to various cities
Update and maintain floor plans per redlines from the design team
Revise material specifications based on plan revisions
Working with structural engineers to complete permit sets where structural drawings are required
Making corrections to existing plans based on jurisdiction comments
Creating construction documents to support the interior design selected details
Creating 3d drawings for client presentations using various programs
What You'll Need to Succeed
BA/BS or other professional degree in Architecture
3+ years' experience in residential design (remodel and additions) required.
Previous experience in a similar or equivalent role preferred
Proficiency with Chief Architect and other rendering programs are required
Intermediate proficiency with Microsoft Office Suite (Excel, Word, Outlook, PowerPoint)
Knowledge of building construction systems means and methods, materials, and industry standards for California and the Bay Area counties
Extensive knowledge of the permit process and capability to respond back to planning department comments
Ability to review and accurately interpret engineering, architectural and other construction drawings
Knowledge of building and energy codes or understanding of past codes with ability to research new requirements
Self-starter that can effectively manage multiple projects in a fast-paced environment with ability to prioritize, and meet deadlines
Excellent customer service, communication, creative and analytical skills
High level of professionalism
ob Type: Full-time