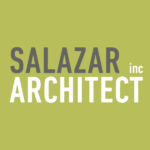 Website Salazar Architect Inc.
public interest architecture + urban design
Project Architect – Portland or Sacramento
Salazar Architect Inc. is a growing firm focused on creating big social and environmental impacts, with an increasing emphasis on design justice. We are a multi-cultural group of designers and architects – collectively we represent seven countries of origin and six spoken languages. Our staff is organized into three Design Research Labs – Community Design, Well-being Design, and Sustainable Design – through which we conduct research, advocacy, and pro bono projects. We empower all staff to spend up to 10% of their time in the lab to help advance our community-based vision.
Much of our work is in service of low-income families and Black, Indigenous, and People of Color (BIPOC). We value the lived experience you bring to the design table, and we encourage candidates who desire working in diverse teams and providing culturally inclusive engagement to apply.
The Role
We are seeking a Project Architect to contribute toward multiple small to large scale developments and coordinate all aspects of assigned work. This position is ideal for someone who is concerned about social and environmental values in their personal and professional lives; and has experience living in, working with, or volunteering with BIPOC communities.
Primary Responsibilities
Work closely with project managers to coordinate one or more active projects with internal team members and consultants
Lead small projects independently as well as collaborate on larger-scale projects as part of a team. Able to work effectively, balancing demands on multiple projects at various stages of development
Manage document production, ability to create an architectural plan set in Revit with minimal instruction while being accurate and timely
Demonstrate knowledge of detailing wood frame buildings and current building codes including accessibility
Prepare design illustrations or rough sketches, and create digital models
Coordinate with other design discipline drawings and models
Collaborate with project teams to ensure design intent, quality assurance, quality control and best practice standards.
Lead consultant communication on projects. Proactively initiate potential solutions that advance the practice of architecture and Salazar Architect's Mission, Vision and Values.
Lead internal team on documentation through all phases of the project. Ability to plan and manage design team efforts to effectively meet deadlines and budgets.
Demonstrate firm wide leadership by mentoring more junior staff and teams.
Additional Responsibilities
Provide constructive feedback to facilitate continuous improvement.
Engagement in industry groups to develop specialized knowledge.
The ability and desire to take leadership roles in the office for a variety of assignments, either temporary or permanent.
Strong interest in public interest design in low-income communities of color.
Education and Experience
Licensure preferred but not required.
Professional degree in architecture from an accredited program.
Minimum of 6 years of industry experience, including at least 2 years of experience on multi-family housing developments.
Sustainability credential(s) such as LEED, WELL, or LFA preferred but not required.
Knowledge, Skills, and Abilities
Organized, self-motivated, able to work independently while collaboratively empowering younger staff as they grow their skills to produce drawing sets.
Ability to provide excellent client service and assure project profitability.
High level of knowledge of federal, state, and local building codes, including accessibility.
High level of knowledge of planning and zoning codes.
Working knowledge of green building systems such as Earth Advantage Certification, USGBC LEED rating system and score card, California Green Point Rated, Washington ESDS or other systems.
Experience with Revit, AutoCAD, SketchUp, Adobe Creative Cloud is a plus.
Proficient with building materials and detailing, ideally with both concrete and wood frame construction types.
Strong interest in collaborating with BIPOC community-based organizations.
Flexible Location
This is a full-time position based in Portland, OR or Sacramento, CA. We are currently working remotely due to COVID and are progressing toward a transition to a hybrid office/remote model, with flexibility.
Equal Opportunity Employer
Salazar Architect Inc. is an equal opportunity employer that values equity, diversity, and inclusion. Women and BIPOC candidates are encouraged to apply. All qualified applicants will receive consideration for employment regardless of race, color, religion, sex, sexual orientation, gender identity, national origin, disability status, protected veteran status, or any other characteristic protected by law. We offer a competitive salary and benefits structure commensurate with experience.
Submission Instructions
Please email resume and work examples to info@salazarch.com with "Project Architect" in the subject and visit www.salazarch.com for additional information about our firm.