Full Time
Salary: We offer a competitive salary and benefits structure commensurate with experience.
July 3, 2021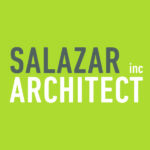 Website Salazar Architect Inc.
High-impact public interest architecture
Salazar Architect is a public interest design firm that provides architecture, urban design and interior design services. We are mission driven and focused on creating Resilience and Design Justice in the built environment by collaborating with community-based organizations as well as other clients. We approach design through a unique design lab structure, which includes Community Design, Well-being Design and Sustainable Design.
Salazar Architect is looking for a Job Captain (Architectural Staff I or II) to join our unique practice, who has strong abilities utilizing Revit for document production. This position is ideal for someone who is concerned about social and environmental values in their personal and professional lives; and has experience living in, working with, or volunteering with Black, Latinx, Asian, Indigenous, LGBTQIA+ and other marginalized communities.
Primary Responsibilities
Work closely with Project Architects and Project Managers to produce one or more active projects with internal team members and consultants. Collaborate on document production, ability to create an architectural plan set in Revit with minimal instruction. Assist with documentation through all phases of the project. Coordinate with other design discipline drawings and models.
Collaborate with project teams to ensure design intent. Prepare design illustrations or rough sketches, and create digital models. Participate in creating potential solutions that advance Salazar Architect's Mission, Vision and Values.
Ability to work effectively, balancing demands on multiple projects at various stages of development, while being accurate and timely, meeting deadlines and budgets.
Demonstrate knowledge of detailing wood frame buildings and current building codes including accessibility.
Design Lab Responsibilities, the ability and desire to:
Learn Public Interest Design / Design Justice / Resilience philosophies and techniques in the practice of architecture.
Collaborate with Latinx, Black, Asian, Indigenous, LGBTQIA+ and other marginalized communities.
Participate in one of our Design Labs (Sustainable, Community Design or Wellbeing) with a willingness to learn, provide constructive feedback to facilitate continuous improvement.
Learn from and engage industry groups to develop specialized knowledge.
Education and Experience
Working toward licensure preferred but not required.
Professional degree in architecture.
Working toward LEED or WELL AP preferred but not required.
3 or more years of professional architecture experience with at least 1 year of experience on multi-family housing developments.
Knowledge, Skills, and Abilities
Highly proficient in Revit.
Experience with AutoCAD, SketchUp, Adobe Creative Cloud is a plus.
Possesses knowledge of the IBC and ADA standards for accessible design, and possesses the ability to achieve the intent of the code.
Ability to understand and learn other codes such as OMSC, OFC, NFPA, OSHA, FHA, ANSI, City of Portland, City / County of Sacramento, etc.
Working knowledge of USGBC LEED, Oregon's Earth Advantage, California's Green Point Rated, Washington' ESDS or other sustainable design systems.
Flexible Location
This opportunity is a full-time position that – for the foreseeable future – will be located as a remote / home office position. Ideally, and when the restrictions brought about by COVID-19 lift, the position will be based in Sacramento, CA or Portland, OR.
Equal Opportunity Employer
Salazar Architect is an equal opportunity employer and all qualified applicants will receive consideration for employment regardless of race, color, religion, sex, sexual orientation, gender identity, national origin, disability status, protected veteran status, or any other characteristic protected by law. We offer a competitive salary and benefits structure commensurate with experience. Please email resume and work examples to info@salazarch.com and visit www.salazarch.com for additional information regarding our firm.