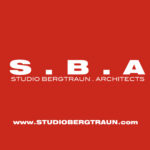 Website Studio Bergtraun, AIA, Architects, Inc.
We're looking for a creative, organized, efficient and enthusiastic architect with 7-15+yrs residential experience to join our team. A few of the projects in our current queue: two new modern homes at Lake Tahoe, a Community Center for an Urban Farm in Berkeley, and 4 new homes in Sea Ranch.
S.B.A. (Studio Bergtraun Architects, AIA) is a dynamic, award-winning studio whose high-end residential projects have been featured on home tours and in publications, including Architectural Record, Tahoe Quarterly and the 'TSR' iconic book on Sea Ranch homes.
We design with the sustainability of our planet foremost in mind, employing highest quality design, creative use of materials, and exceptional responsiveness to clients' and contractors' needs. We focus on residential work, but keep our portfolio varied with a diverse mix of project type, scale, and location to maintain a creative office environment.
Located in the heart of Emeryville's design hub, our studio is part of an engaging, diverse neighborhood community. We're in a recently remodeled small building complex that we share with a contractor with whom we work closely and a gallery space for local artists and events. We strive to incorporate art in every project. We value life-work balance, and have a constant supply of fresh espresso in our kitchen! Possibility to mix remote and in-office work.
This position provides a great opportunity for well-rounded, long-term growth working directly on all aspects of projects. Responsibilities include: working closely with the principal on schematic design; responsibility to independently develop design, presentations including modeling, detailed construction drawings and specifications, interfacing with contractors and clients, construction administration. We always have projects in different phases and value every team member's design input while focusing on developing everyone's technical skills.
Qualifications:
– 7- 15+ years relevant professional experience in residential work
– minimum Bachelor's degree in Architecture, preferably licensed.
-A self-starting team-player with a strong work ethic, eager to learn with a positive, team oriented attitude and dedication to thoughtful design.
-Proficiency in ArchiCAD desirable.
-Last but not least, a sense of humor is necessary!
Local candidates ONLY. Salary commensurate with experience; benefits tailored to your specific needs.
Please e-mail resume, cover letter and work samples (9MB total) to: info@studiobergtraun.com , write 'AIAEB-JobBoard21 in the subject line.
Please no phone calls or drop-ins.
www.studiobergtraun.com – houzz.com/pro/studiobergtraun + see our Facebook posts