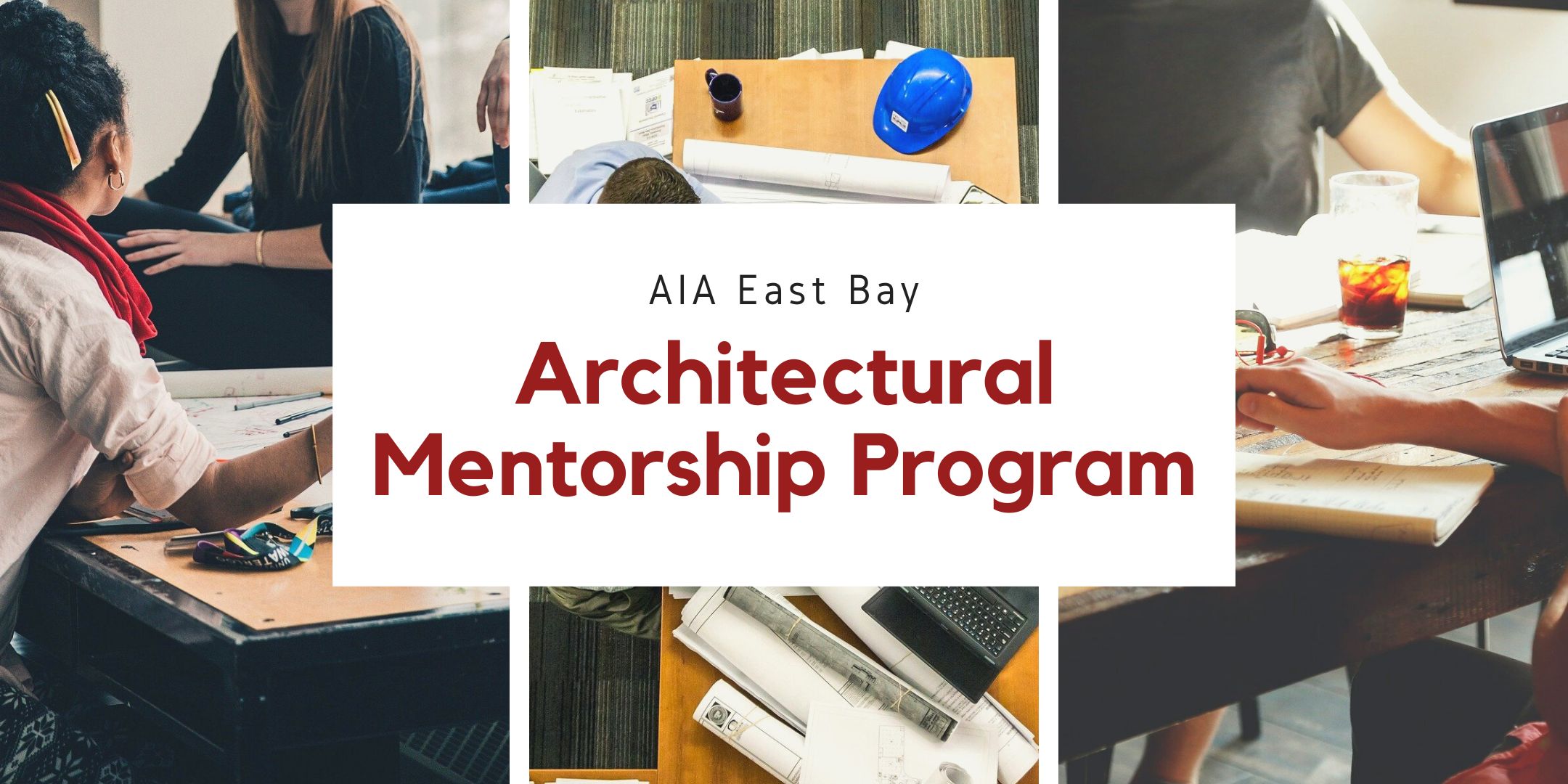 The AIA East Bay Mentorship Program is designed to provide a transformative experience for both Mentor and Mentee. We pair Mentors and Mentees in a dynamic collaboration that fosters growth, learning, and professional development. Whether you're a seasoned architect aiming to share your wisdom or a budding talent hungry for guidance, this program is designed for you.
Participation in this program adds value to personal careers and leadership development for the rising generation in the architecture profession and fosters and continual learning to promote the East Bay architectural community at large.
PROGRAM DESCRIPTION:
We offer two Mentorship Matching programs per year, typically one in the Fall and another in Spring. Mentors and Mentees fill out application forms and are matched based on basic practical criteria like common interests, geography, availability etc.
Mentors participate in a 5 week Mentor Certification Program designed to help Mentors build a great initial relationship with their Mentee as well as providing peer support to ensure a valuable, long lasting Mentor/Mentee experience. Completion of this program will also earn Mentors up to 5 Learning Units. 
MENTOR BENEFITS:

Meaningful Impact: Shape the next generation of architects and leave a lasting legacy in the field.

Refined Skills: Enhance communication and leadership abilities while sharing expertise.

Fresh Inspiration: Gain new perspectives and innovative ideas from engaged Mentees.

Career Advancement: Mentors will earn up to 5 Learning Units for participating in this program.
MENTEE BENFITS:

Guided Growth: Receive personalized guidance to navigate your architectural journey with confidence.

Expanded Knowledge: Gain insights beyond the classroom, learning practical skills from experienced professionals.

Networking Opportunities: Build valuable connections with established architects, opening doors to potential career paths and collaborations.

2023 Winter SCHEDULE
October 10th : Understanding the Role of a Mentor 
October 17th : Essential Skills for Effective Mentoring
October 24th : Developing Technical and Adaptability Skills
October 30th : Building Trust and Respect
November 7th : Leveraging Networks for Mentee Success
December 14th : Celebration at the Chapter's Member Appreciation Party
Mentor Certification Program for Architectural Professionals
Mentors attend five 1-hour sessions (each worth 1 AIA Learning Unit) during the first five weeks after being matched with a Mentee. These sessions are designed to equip Mentors with the skills and support they need to have a successful Mentor/Mentee relationship. Each session is split between sharing your past week's Mentee experience with your Mentor cohort and discussion of each week's objective.
Upon completing these 5 sessions participants will be an AIA East Bay Certified Mentor and receive their official certificate plus up to 5 AIA Learning Units!
PROGRAM FORMAT
The AIA East Bay Mentorship Program is structured into three distinct phases, each designed to foster a meaningful, long-term mentor-mentee relationship:
Phase 1: Getting to Know Each Other During this initial phase, mentors and mentees are introduced, allowing them to establish a solid foundation for their partnership. This phase is about building rapport and understanding each other's background, aspirations, and expectations. Mentees share their career goals, interests, and challenges, while mentors provide insights into their own professional journey. Open communication and active listening are emphasized to create a comfortable and supportive environment. During Phase 1 Mentors participate in a 5 week mentorship certification and support program, where they meet weekly for 1 hour to share how things are going with their mentees, work together to support each other and learn about best practices for being a great mentor. Details and curriculum can be found here.
Phase 2: Mentor and Mentee Career Advancement Strategy In the second phase, mentor-mentee pairs work outside of AIA East Bay program oversight, having developed a natural rapport in Phase 1. Mentors leverage their experience to offer guidance on potential paths, skill development, and networking opportunities that align with the mentee's objectives. Together, they outline a customized plan that combines the mentee's strengths with the mentor's insights. Regular meetings, discussions, and feedback sessions enable the mentor to provide targeted advice and resources to propel the mentee's career forward.
Phase 3: Lifelong Relationship The third phase marks the transition from a structured program to a lasting mentor-mentee relationship. While the formal program may conclude, the connection between mentor and mentee continues to flourish. This phase is characterized by ongoing support, shared experiences, and mutual growth. Mentors remain a trusted source of advice, while mentees contribute fresh perspectives and updates on their achievements. Lifelong relationships are nurtured through periodic catch-ups, collaboration on projects, and a sense of camaraderie that extends beyond the confines of the program.
In each phase of the AIA East Bay Mentorship Program, the focus remains on cultivating a bond that transcends professional boundaries. By starting with building rapport, moving to strategic career advancement planning, and culminating in a lifelong connection, this program not only enriches the participants' professional journeys but also strengthens the architecture community as a whole.