Chapter 11A Housing Accessibility – Lower Cabinets by Jonathan Clark
This month I want to touch on a topic that I have been exposed to for many years and yet I continue to learn and get better at reading and applying the code.  I have done and continue to do many projects that require the application of CBC Chapter 11A Housing Accessibility.  Sometimes you will hear this referred to as residential accessibility, but that is not entirely correct.  Yes it applies to residential projects, but in a very particular way.
So to be brief, Chapter 11A generally applies to residential units that are in buildings with 3 or more units.  So this would automatically exclude single-family dwellings and two-family dwellings (Although this code cycle introduced a lite version of adaptability under the aging-in-place provisions that I wrote about in January).  Most often these provisions would apply to condos, apartments, and townhomes that are privately funded.  Publicly funded housing would require the application of CBC Chapter 11B.
I want to focus on the provisions of Chapter 11A that apply to the design of kitchens and bathrooms with a focus on how we are required to provide access to various appliances especially appliances in lower cabinetry.  Also, note that the provisions that I am referencing are those that apply to dwelling units (Division IV) only as there are also provisions in Chapter 11A that apply to common areas.
Kitchens
Chapter 11A kitchen design has a number of requirements that address clear floor space, removable base cabinets, countertops, lower shelving, sink faucet controls, and knee and toe space.  Below is a graphic that we have developed over the years to demonstrate compliance with the clear floor space requirements as they apply to the various kitchen appliances, sink, and workspace.  Not only is this helpful during the plan check process, but it provides a quick view of accessibility requirements if the need arises to make modifications in the field.  Often we need to evaluate design revision quickly and accessibility can be overlooked.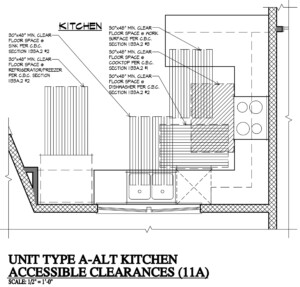 CBC 1133A.2 details the various requirements for these clear floor spaces.  Ranges or cooktops require a 30" x 48" clear floor space that allows for a parallel approach by a person in a wheelchair.  All other clear floor space requirements allow for a parallel or a forward approach of the same size.  For many years we designed and developed kitchen layouts with parallel approaches as much as possible.  The intent was to avoid having to install removable base cabinets.  We thought as long as we provided for a parallel approach then we wouldn't need to provide removable base cabinets because a parallel approach provides access to the appliance or workspace.  And for many years we thought we were correct because our plans would go through the plan check process and be approved, the buildings would be built with no comments from the building inspectors, and most often sold or rented to users who were not in need of the accessibility provisions required.  That all changed in the last year when an observant plan checker commented on the need for removable base cabinets on one of my projects.
CBC 1133A.3 is the section that addresses removable base cabinets and reads as follows, "Sinks and work surfaces required by Section 1133A.4 (see Item 1 and Item 2) shall be provided with knee and toe space complying with Section 1133A.7. Base cabinets (including toeboard and shelving) directly under kitchen sinks and work surfaces shall be removable without the use of specialized tools or specialized knowledge in order to provide knee and toe space. The finish floor beneath kitchen sinks and work surfaces shall be extended to the wall."
This seems pretty straight forward.  It outlines where they are required and alludes to the reason they are required; for knee and toe space.  What it doesn't say is, if we provide a parallel approach, then we don't need to provide removable base cabinets.  The realization that I had was that we need to provide removable base cabinets regardless of the type of approach we design (I have included a couple of generic details that we have developed over the years for removable base cabinets in the kitchen).  This isn't a huge deal for kitchens as most typical sizing of appliances and other kitchen spaces more easily accommodate removable base cabinets.  The more impactful aspect of this realization was when it applied to bathrooms.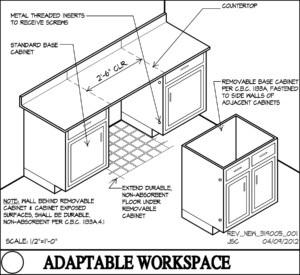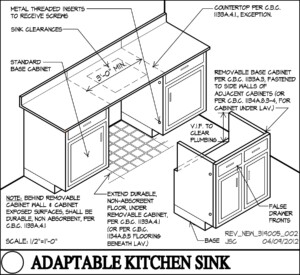 Bathrooms
Bathroom sinks are interesting because in residential occupancies sinks are usually part of the vanity base cabinet.  In commercial settings sinks can be their own fixture or included as part of only a countertop.  Lower base cabinets typically don't exist in commercial settings in order to comply with commercial accessibility requirements.
Chapter 11A distinguishes between vanities and lavatories with and without cabinets under them.  But this distinction is subtle.  The code allows for either a forward or parallel approach to the sink and has different spatial requirements for each.  CBC 1134A.8 item 3 addresses cabinets as such, "Cabinets under lavatories are acceptable provided the bathroom has space to allow a parallel approach by a person in a wheelchair and the lavatory cabinets are designed with adaptable knee and toe space."
This is interesting because installing cabinets in a bathroom automatically requires a parallel approach to the sink (which requires a specific location and clearance) and we need to provide knee and toe space with removable base cabinets.  So if designing a bathroom with cabinets (which is typical in residential design), we need to plan for space to accommodate a parallel approach in all cases.
My takeaway is that architecture is a practice.  We should always be learning, read the code carefully, and don't assume that what has always been done is code compliant.
Jonathan Clark
Architect | Principal
jclark@sdgarchitectsinc.com
Comments from Kerwin Lee, AIA: 
Much of what is in Jonathan's article originated in the Fair Housing Amendment Act (FHAA), an act that first applied to Federally funded housing projects and still does. The State of California, under Housing and Community Development (HCD), has made part of the CBC, Chapter 11A.
Much of what has confused designers and plan reviewers in this chapter is the concept of "Adaptability". In the preamble of the FHAA, there is discussion related to adaptable features, but the Federal Guidelines never defines or codifies what that really meant. Features such as removable base cabinets, reinforcing for grab bars are adaptable elements. The basic concept was that if and when a disabled person lived in a dwelling and needed additional federal , they could be easily added, not needing a major remodel. This may be true, but not codified. Whenever designing for accessibility, error on the side of more access.