Sierra Bainbridge Awarded Berkeley Rupp Prize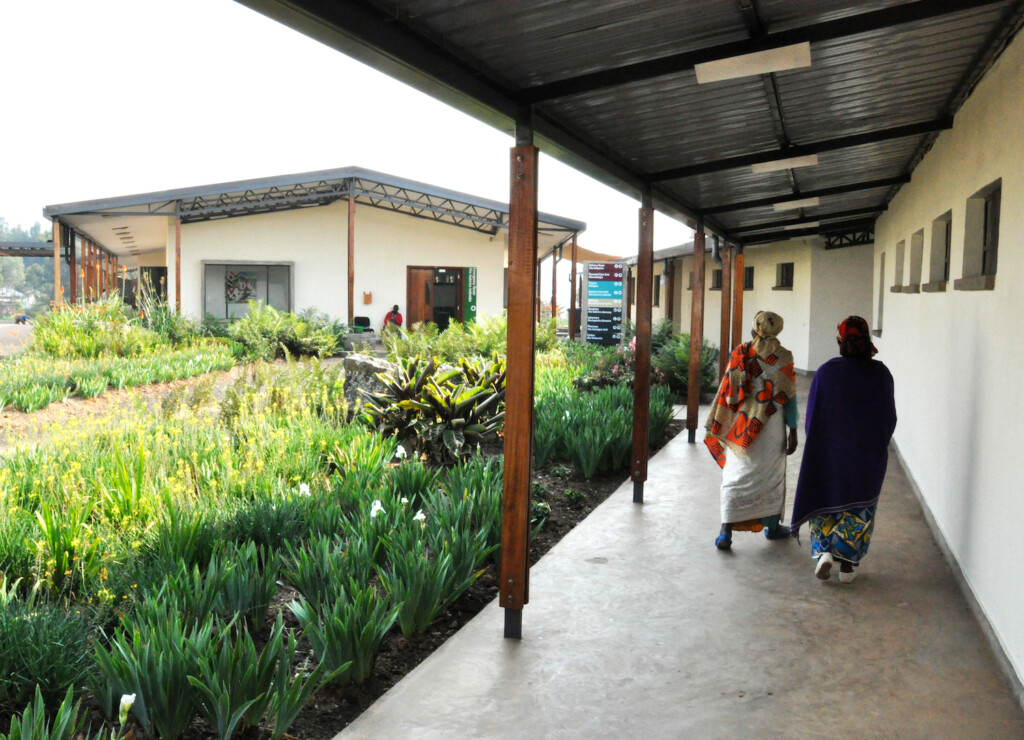 Photo Credit: MASS Design Group, Butaro District Hospital, Rwanda.
Sierra Bainbridge, co-founder of MASS Design Group, will be in residence at the College of Environmental Design during the academic year 2023–2024.
Monday, August 28, 2023—Berkeley, CA. The College of Environmental Design (CED) at UC Berkeley is excited to announce that it has awarded the 2023–2024 Berkeley Rupp Prize to Sierra Bainbridge, an award-winning landscape architect and a co-founder of MASS Design Group. The biannual Berkeley Rupp Prize is a $100,000 award that recognizes the special values that women bring to the built environment.
Bainbridge, who has degrees in both architecture and landscape architecture, has worked at the forefront of initiatives that explore the role of design in cultural and environmental healing. Her projects, which emphasize dignity and truth-telling, address equity and justice in the context of a global community.
Named firm of the year by the American Institute of Architects in 2022, MASS Design Group is known for projects such as the Butaro District Hospital in Rwanda (2011); the National Memorial for Peace and Justice in Montgomery, Alabama (2018); and the Ellen DeGeneres Campus of the Dian Fossey Gorilla Fund (2022).
The Berkeley Rupp Prize provides for yearlong residency at CED, which includes opportunities for teaching, public lectures, and creative scholarship. It is intended to provide the recipient with inspiration and time for reflection that may inform future contributions to the profession. The Berkeley Rupp Prize is made possible through a generous bequest to the campus by architect Sigrid Lorenzen Rupp (BArch 1966).
During her tenure as the Berkeley Rupp Prize awardee, Bainbridge will teach a fall research seminar and a spring design studio that bring students in architecture and landscape architecture together to focus on climate solutions through design.
"The Berkeley Rupp Prize supports an intentional shift in the focus and impact of my work, expanding the learnings of cultural healing through memorials toward the urgency of planetary healing," Bainbridge says.
"We are delighted that Sierra will be joining the distinguished group of Berkeley Rupp Prize winners, bringing to the college her visionary focus on cultural and environmental stewardship through design," says William W. Wurster Dean Renee Y. Chow. "A member of the nomination committee remarked, 'What an astonishing 'half' career! What will her next half of her career bring?' While we know that our community will learn much from Sierra, we also hope that Sierra will find her time here on campus rewarding to her future work."
While at Berkeley, Bainbridge plans to elaborate, through research and teaching, on a design methodology developed through her work on the Rwanda Institute for Conservation Agriculture and The Ellen Degeneres Campus of the Dian Fossey Gorilla Fund. These projects are informed by the One Health philosophy, the understanding that human health, animal health, and ecosystem health are intertwined. Her courses will explore strategies that minimize architecture's carbon footprint while utilizing landscape to attain carbon neutrality.
Bainbridge will give a public lecture in the spring in the College of Environmental Design Lecture Series.
About the College of Environmental Design
Berkeley's College of Environmental Design (CED) reimagines the future and reshapes the ways we live. The first college to unite the disciplines of architecture, planning, and landscape architecture more than 60 years ago, CED pioneered an integrated approach to analyzing, understanding, and designing our built environment. As one of the world's most distinguished laboratories for experimentation, research, and intellectual synergy, the college aims to educate diverse students to critically analyze the built environment, preparing them to craft buildings, cities, and landscapes that are ecologically sustainable and resilient; prosperous and fair; healthy and beautiful.
Media Contact:
Nina Lewallen Hufford, Director of Communications
College of Environmental Design, UC Berkeley