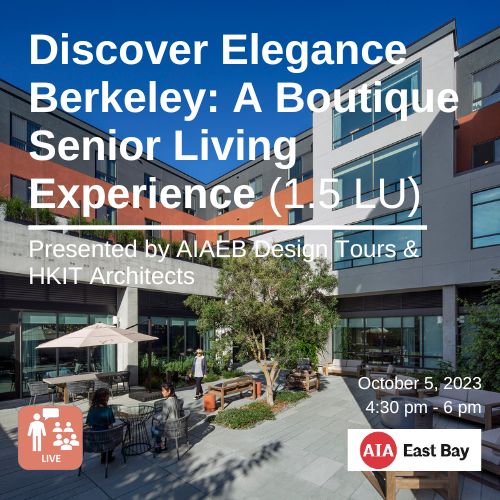 Discover Elegance Berkeley: A Boutique Senior Living Experience (1.5 LU)
The Elegance Berkeley tour provides attendees with insight into the architectural and urban design considerations that went into creating this boutique senior living community.
Situated along bustling San Pablo Avenue between the West Berkeley Design Loop and the International Marketplace District, Elegance Berkeley was designed to keep seniors connected to their surrounding community and inspire future generations. The community is strategically situated within an urban, pedestrian-friendly location with easy access to public transportation. The ground floor features an array of amenities, including a beauty salon, a wellness suite, a physical and occupational therapy center, an Art lab, and restaurant/retail space, with opportunities to invite both residents and the community to engage with the space.
Step inside Elegance Berkeley, a new boutique Residential Care Facility for the elderly in the Poet's Corner neighborhood of Berkeley. Participants will explore all four stories of the building, including assisted living and memory care spaces, as Christophe Laverne of HKIT Architects discusses the Elegance philosophy, approach to aging, and how thoughtful design can profoundly enhance the quality of life for our senior community.
Don't miss this unique opportunity to witness how Elegance Berkeley is redefining the senior living experience.
Christophe Laverne has over 20 years of design, project management, and construction administration experience in projects focused on senior living communities, multi-family residential communities, municipal projects, and an array of public facilities. His approach to architectural design is rooted in meaningful, sustainable, and healthful experiences for users that balance nature and the architectural built environment.