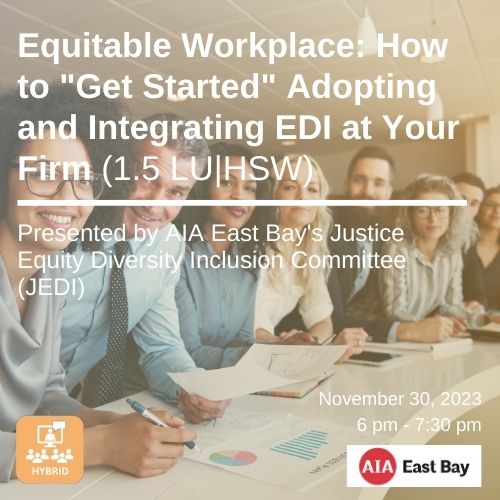 Equitable Workplace: How to "Get Started" Adopting and Integrating EDI at Your Firm (1.5 LU|HSW)
Diversity, equity, and inclusion (EDI) drive business success. Join our panel of experts to learn how implementing strong EDI initiatives can enhance your organization's competitiveness, attract clients and projects, and foster a thriving work environment. 
Gain valuable insights and practical strategies from industry leaders who have successfully built diverse and inclusive teams here in the East Bay region. Don't miss this opportunity to strengthen your business and gain a competitive edge.
Topics covered will include:
Assessing the Current Landscape: Understanding the diversity and inclusion gaps within your organization, identifying areas for improvement, and setting measurable goals.

Leadership Commitment: Exploring the role of leadership in championing EDI efforts, creating buy-in from top-level executives, and developing a shared vision for an inclusive workplace.

Building an Inclusive Culture: Strategies for fostering an inclusive work environment, including education and training programs, implementing unbiased hiring practices, and promoting equal opportunities for career advancement.

Employee Engagement: Encouraging open dialogue, creating employee resource groups (ERGs), and establishing feedback mechanisms to empower employees and ensure their voices are heard.

Measuring Progress: Identifying key metrics and tracking progress to assess EDI initiatives' effectiveness and making necessary adjustments.
Attendees can ask questions and engage in a dynamic conversation with the panelists. Whether you are a small startup or a large corporation, this panel discussion will equip you with valuable insights and actionable steps to kick-start your EDI journey and create a more equitable workplace for all.
Don't miss this opportunity to learn from industry experts and gain practical strategies to foster a workplace environment that celebrates diversity, promotes inclusivity, and drives business success. Register now to reserve your spot at this enlightening panel discussion on adopting and integrating EDI at your firm.
Shalini Agrawal is trained in architecture and brings over two decades of practice in community engagement. She has dedicated her career to bringing diversity, inclusion and equity in design and architecture. She is founder and principal of Public Design for Equity and Director of Pathways to Equity, leadership experiences for equitable community-engaged design. She has trained 900 architects and designers in racial justice workshops. Shalini is a core organizer for Dark Matter University, a national network of BIPOC educators who challenge, inform, and reshape architecture education towards anti-racism. She is an award-winning educator at California College of the Arts as Associate Professor in Critical Ethnic Studies, Interdisciplinary Design Studios and the Decolonial School, teaching curricula that aims to decolonize design and architecture. Shalini's research focuses on revealing the historical legacies of colonization in architecture and design and dismantling its lasting impacts.
Jessica Jobe Sea, AIA is a licensed architect who has worked at Noll & Tam since 2013.  Her experience covers a range of projects: from libraries to office renovations, and research labs to hospitals. Jessica has a passion for sustainable design and community-centered design. She likes to get the perspective of people outside the industry – they challenge her to look at things in a different way, and she finds that incorporating these perspectives helps her understand how to move the industry forward. Jessica is a co-chair of the Racial Equity committee at Noll & Tam that works to implement policies and practices within the firm to address racial and social inequity.
In the fall of 2018, Jessica participated in the first Pathways to Equity fellowship through the Open Architecture network.  Through this fellowship, Jessica and other P2E alum have been partnered with West Oakland Environmental Indicators Project (WOEIP) since 2018 to facilitate monthly community meetings and provide technical support for a community collective creating and advocating for a robust, equity-centered Community Benefits Agreement for development at the Howard Terminal. 
Ursula Currie, AIA is a licensed architect practicing in the Bay Area since 1990.
Although of Irish descent, Ursula earned her architecture degrees from The Glasgow School of Art, and The University of Dundee, Scotland. Her professional career has focused on designing and managing civic, institutional and educational facilities. 
Ursula is a Senior Associate at Perkins & Will, San Francisco. As the 2023 AIA East Bay President, she is committed to supporting all ecological endeavors within our profession, to help ensure a healthier planet.
Next Event
Date

Dec 01 2023

Time

2:30 pm - 3:30 pm