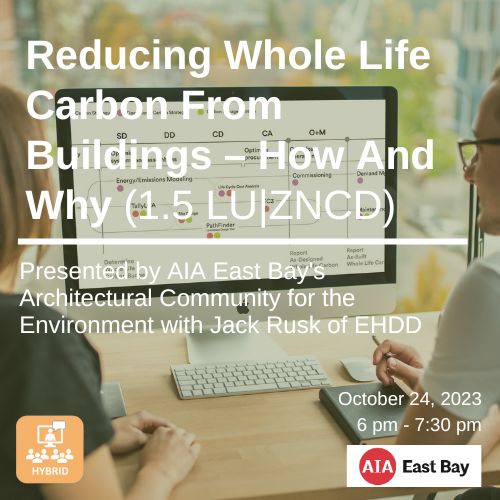 Reducing Whole Life Carbon From Buildings – How And Why (1.5 LU|ZNCD)
In recent years the focus of climate-sensitive design has shifted from energy efficiency to tracking the carbon released into the atmosphere during the construction and operation of the built environment. Worldwide, buildings contribute 40% of the carbon emitted every year. As architects, engineers and building owners, our decisions can play a key role in mitigating climate change. This event will introduce concepts and tools for tracking and reducing whole carbon emissions.
This session will focus on tools, strategies, and workflows for reducing carbon emissions from buildings. Jack Rusk, Climate Strategist at EHDD, will highlight free and easy-to-use tools currently available for estimating carbon emissions at all stages of design. The focus of the session will be on early project phases, where smart planning decisions can lead to major carbon reductions. Additionally, this session will discuss the new mandatory CalGreen requirements on embodied carbon that will come into effect in 2024.
Jack Rusk, Assoc. AIA, LEED AP BD+C is the Director of Climate Strategy at EHDD, an architecture firm with offices in San Francisco and Seattle. He works across projects at the firm to identify and implement climate positive design strategies. Jack also leads development of the Early Phase Integrated Carbon (EPIC) assessment, a web application for planning carbon reductions. Available for free and covering a range of carbon reduction measures, EPIC illustrates the potential for deep decarbonization in every project. Jack is a graduate of the Yale School of the Environment and the Yale School of Architecture. In the past few years, he has published or presented research on ecosystem restoration, life cycle impacts of bio-based materials, urban hazard risk, and decarbonization policy's consequences for health and social equity.