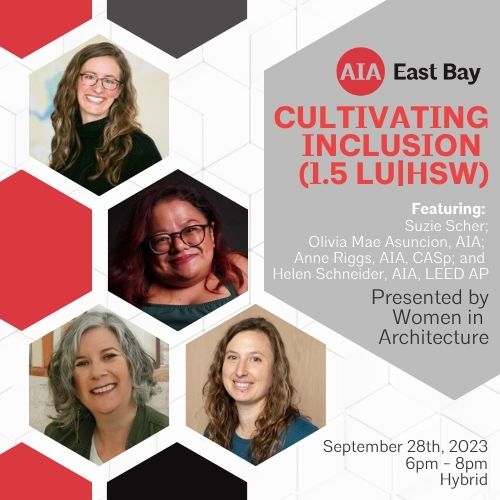 Women in Architecture: Cultivating Inclusion (1.5 LU|HSW)
Join our WiA Community for their first panel. All are welcome – invite your friends!
The 1991 Americans with Disabilities Act was landmark civil rights legislation that expanded the fundamental right to physical access to public facilities. More than 30 years later, inequalities persist and additional work is needed for disability justice in the built environment. Also, a 'minimum compliance mindset' among facility owners and designers can, ironically, shift focus away from more inclusive design practices that benefit all users. Join a diverse panel of women representing design, advocacy, and regulation as we discuss the state of access and inclusion in the design and building industry, the future of related regulations, and pathways to centering inclusive design practices in our work.
Networking

6:00 - 6:30 PM

Panel Discussion

6:30 - 7:30 PM
Suzie Scher started her ability awareness journey while attending a unique elementary school with students with a variety of disabilities in all classrooms. Suzie was lucky enough to make lifelong friendships with kids of all abilities. Opportunities to experience being a wheelchair user and a visually impaired person for a day were part of her early education and formed a lifelong curiosity about equal access, inclusion and diversity. Suzie has worked and volunteered in the disability community since her undergrad days, including volunteering with people with HIV/AIDS. Prior to getting her Master's degree in Occupational Therapy at Colorado State, Suzie was a Project Manager at KaBOOM!, a non-profit which facilitates community built playgrounds. She coordinated the construction of 91 ADA compliant playgrounds throughout the US and Canada. During her 15 year career as an Occupational Therapist she was a puppy raiser with Guide Dogs for the Blind and provided animal assisted therapy to her clients. Suzie pivoted to a non-traditional Occupational Therapy role and became a Certified Professional in Accessibility Core Competencies (CPACC). Her focus on functional mobility and the way people engage with their environments while participating in their daily activities and personal interests sets her apart from other accessibility consultants. She is excited to use her unique perspective as an Occupational Therapist to create spaces that make everyone feel welcome and celebrated.
Olivia Mae M. Asuncion, AIA, has oriented her career path towards building accessible communities and advocating for inclusive design as a licensed architect and design researcher from Oakland, California. She started her professional career helping Bay Area non-profit organizations with their construction, project, and property management needs, including the Ed Roberts Campus, a universally designed building in Berkeley that hosts several disability organizations. Her architecture experience includes the design and construction of public safety buildings, public sector office and community spaces, and K-12 educational facilities. Asuncion is also passionate about improving architecture through environmental design research. Notable projects include: a study assessing the efficacy and accessibility of existing evacuation protocols and building safety codes for people with disabilities; collaboration with University of Oregon faculty on the post-occupancy evaluation of the Ed Roberts Campus; and a Fulbright Program project studying the accessibility of elementary schools in the Philippines. In addition, she has lectured on the importance of inclusivity and accessibility in the built environment to university students and design professionals. Asuncion is also an active member of and has served as a Young Architect leader for the American Institute of Architects. She received her Bachelor of Arts degree in Architecture from the University of California at Berkeley and her Master of Architecture degree from the University of Oregon.
Anne Riggs, AIA, CASp is an Associate / Inclusive Design Lead at David Baker Architects. Anne is committed to producing design that embodies an ethic of care—creating uplifting, equitable, and sustainable environments for all. A Certified Access Specialist (CASp), Anne guides DBA's inclusive design processes. She specializes in access compliance for public and publicly funded projects (Title II) and public accommodations (Title III). She has more than 10 years' experience designing and constructing affordable public housing, single- and multi-family housing, hospitality, K-12 public schools, healthcare, retail, and community development projects.
Helen Schneider, AIA, LEED AP has cultivated a passion for the design of schools, non-profits, and other mission-driven and cultural organizations over the course of her career. She is currently the Senior Project Manager for Lighthouse for the Blind, leading the master plan, resilient infrastructure network, and design and construction of over 20 new buildings at their Enchanted Hills Camp in Napa. EHC was co-created with a blind, low-vision, and sighted client group. In addition to creating tactile prints and models, the team developed storytelling and narrative techniques for communicating complex design ideas to our blind and low-vision clients and stakeholders. This unique design process has given Helen a new perspective on how we design spaces to accommodate a diverse range of human abilities and experiences – to enrich the built environment that we all enjoy.