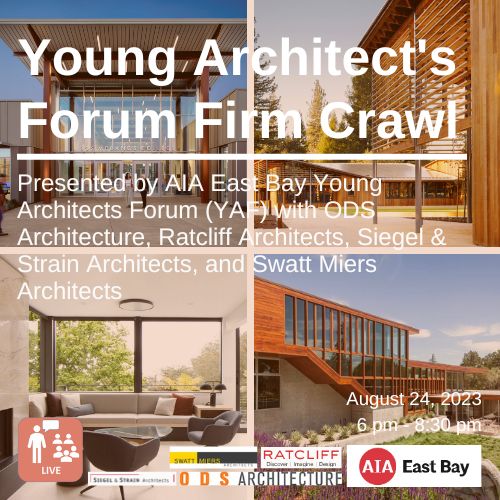 Young Architect's Forum Firm Crawl
Join us for firm tours of 4 East Bay Area architect neighbors in Emeryville!
While touring their offices, we will learn more about each firm and see examples of their work and office space. Our featured stops are: Ratcliff Architects, Swatt Miers Architects, ODS Architecture, and Siegel & Strain Architects.
Ratcliff has been designing distinguished architecture since 1906, and continues to offer a broad range of architecture, interior design and planning services to healthcare, academic and civic clients. Creating environments that support our clients' mission at critical junctures in learning, healing, living, working and worship serves a guiding principle in our practice. We believe that organizations, and the people who drive them, want to be heard, valued, and understood while being engaged in creative work. As one of the nation's longest continually-operating architectural firms, Ratcliff has evolved from the days when architects sketched on linen to today's thriving computerized practice illustrated virtual image building models. We take pride in the enduring value our buildings provide the communities they serve.
Swatt | Miers Architects offers architecture, planning, interior design and facility programming services to individual, corporate, public service and institutional clients on a wide spectrum of building types. Projects range from internationally acclaimed single family residences to a diverse array of public service buildings, including nationally recognized Companion Animal facilities which have set the standard for this building type throughout the United States and Canada.
Located in the San Francisco Bay Area, ODS Architecture is an architectural design firm that specializes in new custom homes, whole house transformations, and unique office and museum spaces. We create buildings and spaces for living and working that are simple, efficient, and attuned to the owner's needs. The solution is the coming together of all these elements which can be modern with elegant proportions or a transition between traditional and contemporary that benefits both.
Founded in 1985, Siegel & Strain Architects is an innovative design firm recognized nationally for award-winning and sustainable projects. We have a staff of 18 with 10 licensed architects and 8 LEED Accredited Professionals. Our civic and institutional projects are varied – schools, environmental education centers, libraries, community centers and city halls, some of which are historic, all of which are green. Our services range from programming to planning, design of new facilities to adaptive re-use of existing structures and rehabilitation of historic buildings. We have received over 70 national and regional awards for sustainable and energy-efficient design including four Top Ten Green Project awards from the American Institute of Architects and three Savings by Design awards from AIA California Council.