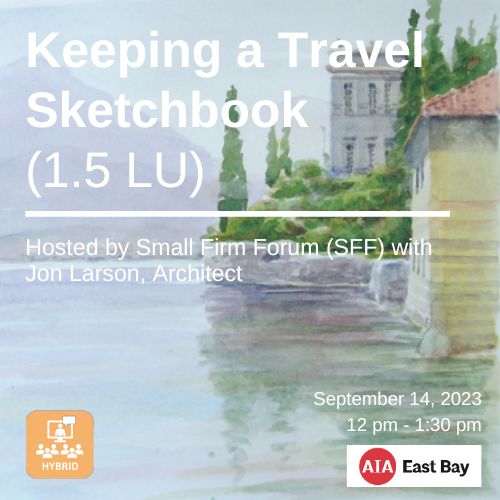 Keeping a Travel Sketchbook (1.5 LU)
The art and drawing that is supported by keeping a travel sketchbook is basic to the practice of architecture on many levels: both for literally seeing and recording a new building/place or idea you might like and want to emulate in your design – and also for fine tuning of observational skills and remembering what is learned about different cultures and new ways that they are expressed in the built environment.
Throughout this event, we will receive:
Overview of some Jon's travel sketchbooks and how he uses them to enhance his travel and also use as a springboard for other projects.
A glimpse into Jon's drawing and sketchbook 'toolbox' and a few art and illustration terms, tips and techniques for use in your own sketchbooks.
Examples of other artist and architect's sketchbooks in the present and through history and some thoughts and questions to ask to help see why you might like it.
Sketchbooks and your future- Ideas for sketchbook life after your vacation and a chance to share a few images, stories and questions from your own travels
Jon Larson is an East Bay architect, illustrator, and painter, who taught architectural drawing at the Building Education Center in Berkeley for over 20 years. He has also taught art classes throughout the Bay Area, lectured on "Art in Everyday Life," and recently did a presentation on 'Follies and Fantasies in Art and Architecture.' Classes that he has taught include the 'Sketch Journal Class' at the San Francisco Institute of Architecture and the drawing class at the East Bay Waldorf School. His book and magazine illustrations have been published nationally, and his artwork has been exhibited in several galleries throughout the Bay Area.
Over the last 40 years, Jon has kept sketchbooks on his travels throughout Europe and the U.S., which he uses as a source of inspiration for his paintings and other work. Other projects have included illustrations for a deck of creativity cards for generating new ideas, inspired by Brian Eno's "Oblique Strategies." He is also an accomplished musician and has created a slide show of his dream images, set to music.