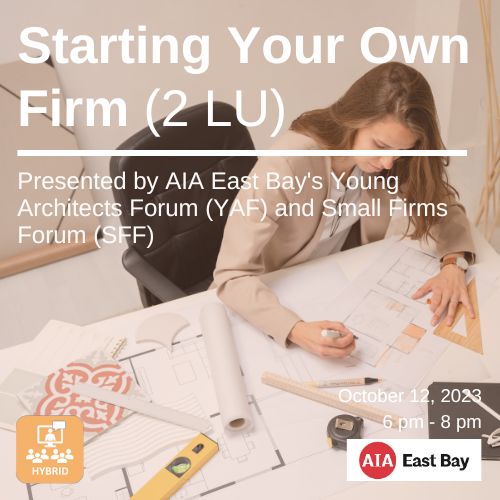 Starting Your Own Firm (2 LU)
Join our Young Architects Forum / Emerging Professionals round-table with panelists from the Small Firm Forum to discuss lessons learned from starting their own practice.

After each architect gives a brief introduction of themselves, the meeting will evolve into an interactive session of questions and observations from those in attendance. It is expected that attendees will be a mix of architects who have started firms, young architects, and architects in general who are thinking about starting a firm.

Light refreshments will be offered to those who attend the event in person!
Marcia Adair, AIA has been a member of AIAEB since 2014. She finished in 8th place out of 400 competitors for the Bachelors Degree course in Architecture & Urban Planning at UFRN, Brazil. After graduating in 2012 with a Brazilian Architect's license, she came to the US and started pursuing licensure in California. Subsequently, after working at a few firms in the San Francisco Bay area, Marcia obtained her CA Architect's license in April 2022 and has recently opened her own architecture office: Sustainable Architecture Firm. Her Brazilian connections and attentive customer care have led her to obtaining a few commercial restaurant projects. Marcia's love for sustainability keeps motivating her to improve and enrich her skills. Marcia is also an active volunteer at Habitat for Humanity, which developed in her getting her first architectural job in the US.
Linda Randolph's long and winding road: I grew up in the rural area of a small town in Ohio. I guess now you would call it a "free range" youth. I got a degree in micro biology and moved east to take a job in early genetics research. I didn't like working in a lab or the publish or perish atmosphere, so in the summer of 1971, I moved to the Bay Area. I got into an option 3 graduate architecture program at U C Berkeley for people with no architectural background. While there I helped a classmate build a spec house and got credit for it. I also spent 6 months building low income homes in Mexicali, Baja California with Chris Alexander. After getting my master's degree, I didn't want an office job,  so I became a design/build general contractor. That lasted 10 years until I had a baby. It was much easier to be a part time architect, so I got my license.  I was a sole practitioner for the past 40 years and have loved every minute of it. My jobs spaned small remodels to large new homes. I only did one commercial job, but preferred residential. l occasionally worked with other SFF architects on an as needed basis. It has been a wonderful life.
Donald Wardlaw's Perspective: The architecture bug first bit when I was in the 6th grade, when we studied the Mayans.  In the 7th grade we had to do a book report so I did one on FLW's Imperial Hotel.  Finished Cal Poly in 76.  Licensed in 81.  On the loose in 89.  Incorporated in 03.  Got a Contractor's license then.  Good idea but generally too late in life.  Folks that had been doing it for 20-30 years were a better choice for my clients.  (That said, I can build.  I've done foundations, framing, roofs, windows, tile, veneer plasters, finish carpentry, plumbing and electrical).  I've got one foot in retirement but it has been a wonderful career of more than 45 years.  On my own I'm a one man shop:  contract writer, designer, drafter, accountant, construction administrator, and office manager.  I learned that the time working in other offices, prior to going out on my own, was a key to my success.  Also rewarding in many ways was my experiences with AIA and AIA East Bay starting with the time when I went out in the wild.  I became a regular at SFF (then Remodelers Roundtable) in 1989.  My work has included commercial, residential and industrial.  A characteristic of my work is that I do the structural drawings and my details show all the pieces.  My drawings are very detailed.  The monetary rewards have been modest, the life force rewards have been very substantial.  Minimal regrets.